Daily brushing and cleansing are necessary to maintain teeth and gums properly especially for your children. Routine dental checkups are also recommended, as are treatments such as fluoride, sealants, extractions, fillings, braces and other orthodontics.
The Value of Dental Health
Keeping an eye on your child's dental health is critical for various reasons. First, you want to prevent their teeth from becoming yellow and bad breath from developing, but proper dental hygiene goes beyond aesthetics. Preventive dental care is an essential part of pediatric dentistry. It can lower the chance of cavities, avoid long-term dental costs, and keep them healthy overall. In addition, you may assist your child in staying on track for years by using these suggestions.
Top 10 Tips for Strong, Healthy Teeth in Children
Kids prefer to copy what they see, so set an example by practicing proper dental hygiene. For example, instead of sending your children to the bathroom alone, brush and floss with them. Make it a part of your daily routine instead of viewing it as a duty.
Teach young children under three how to use a rice-sized quantity of toothpaste. Children can use a pea-sized amount once they remember to spit the paste out rather than consume it. When their teeth have grown close enough to touch, children can floss and rinse with mouthwash daily.
Insist on Bedtime Brushing
Brushing teeth may be a nightly struggle for many families. This is because some children dislike cleaning their teeth, while others are not used to it. Brushing teeth thoroughly before night, on the other hand, can help prevent tooth decay and cavities while keeping teeth strong and healthy.
There are so many unique toothbrushes on the market right now, from those with character themes to those that play music—lacking a musical toothbrush? Sing a ridiculous song, play a video on your smartphone, or come up with a story about sugar bugs lurking in their mouths. The secret is having your kids look forward to this time of day rather than considering it a duty.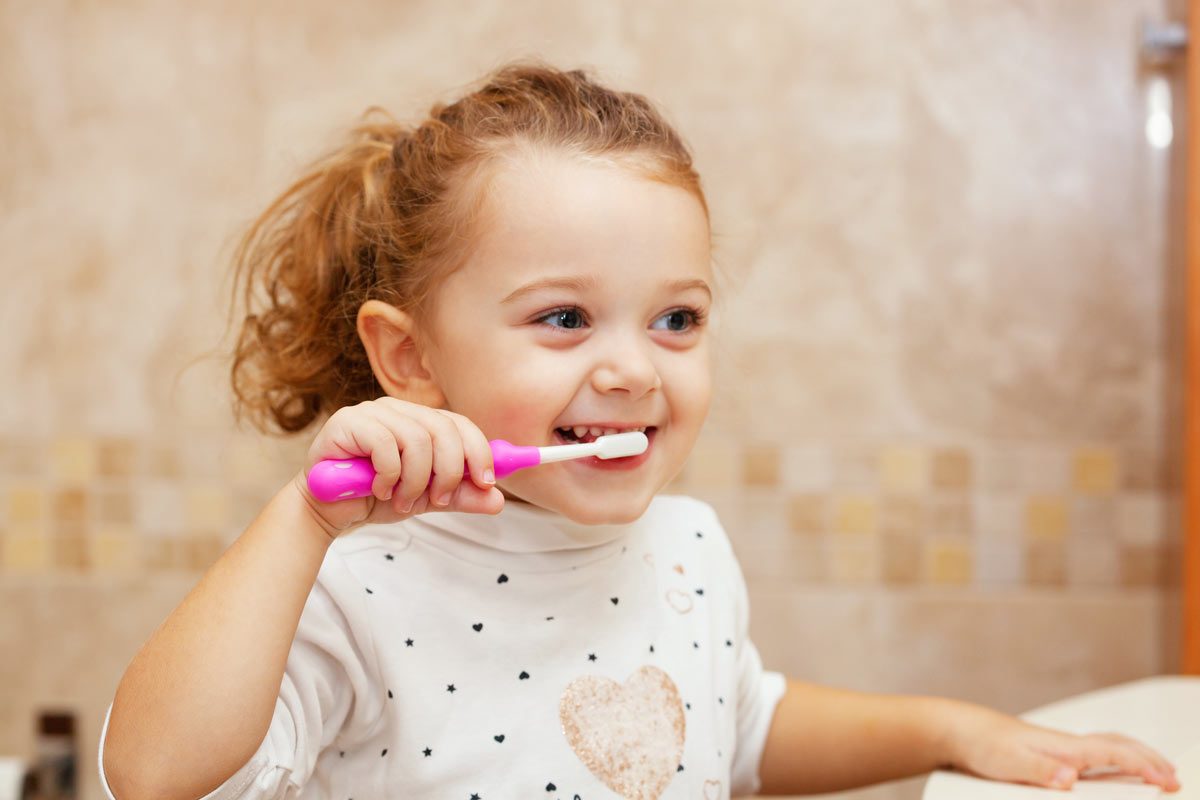 Get Rid of the Gummy Candies
Gummies, junk food, soda, and even sports drinks are high in sugar, accumulating on and between teeth. If you can't entirely stop giving them, consider giving them just during the daytime when saliva production is higher and can help wash the germs that cause cavities away.
Make an Appointment with Your Child's Pediatric Dentist
Everybody, even children, must visit the dentist at least twice a year for a checkup and professional cleaning. These checkups assist in removing any plaque accumulation and early detection of any possible issues. Additionally, your child's pediatric dentist could advise fluoride treatments or sealants as an additional layer of protection.
In addition to improving general health, avoiding sugary food and drinks can also spark a discussion about cavities. Allowing sugar to sit on your teeth can cause decay, and we all want healthy, strong teeth to enjoy the things we like.
Brushing twice daily for a minimum of two minutes is advised, but this is only sometimes accomplished. To ensure that all tooth surfaces are brushed and that brushing has lasted long enough to remove plaque effectively, set a timer. And, if desired, use a tartar dye. In addition, apps are available to make brushing and caring for your teeth enjoyable.
When two teeth come into contact, it's time to start flossing. The majority of tooth decay is interproximal or between two teeth. So only floss can get in there, not a toothbrush.
Discuss the possibility of having your child's teeth sealed with your dentist if you want them to have healthy teeth. Sealants can help prevent cavities and fillings.
The greatest thing you can do for your child's teeth is schedule routine dental visits to ensure they are strong and growing normally. Then, make the dental appointment a pleasant experience for your child by letting them know what to expect. If you care about your child's dental health and live in Toronto, call us at Smile Dental or schedule an appointment online immediately!